WELCOME TO
Palm Square
As we mentioned, our classic block construction in a major design feature in our apartments. We've played on this by matching the rectangular shape inside our showers with modern tile that complements the aesthetic. We've also newly renovated our units to include fashionable paint colors and crisp white baseboards in a notable departure from the "standard apartment". While unique, we thoughtfully chose design elements that are still neutral to allow you to customize your space to your taste. You'll also notice the original hand-crank windows that real estate investors fight to preserve for their charm and history! But, not to be be stuck in the past, you'll still enjoy modern conveniences like stainless steel appliances, a washer and dryer in your home, and chic granite countertops. The vinyl wood plank flooring also brings the look together and provides easy maintenance, especially if you have pets. You'll also appreciate the single-story construction which will eliminate noise from heavy-footed upstairs neighbors!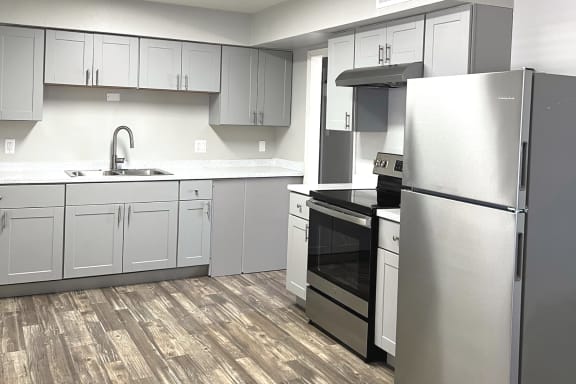 AMENITIES
Your Comfort Considered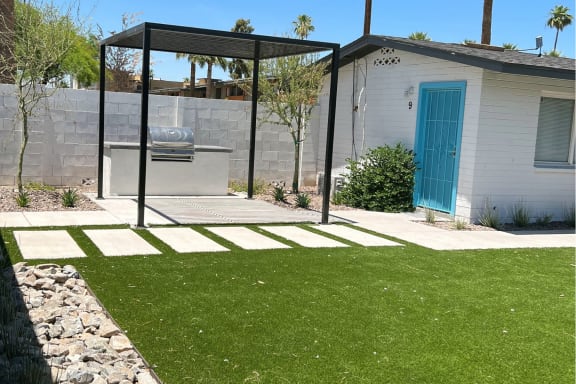 PHOTO GALLERY
Modern Elements, Old Soul
From the outside, you'll see a piece of vintage Americana with a Mediterranean flair. Enjoy inviting guests to see the classic white exterior with pops of turquoise, a popular color in the 1950s. You'll also enjoy the contrast between crisp and lush landscaping, peppered with palm trees, that remind you that this is desert living at its best. Spend an afternoon grilling under the ramada in our community space before hitting the Central Corridor just up the road for tons of choices in food and shopping. We're partial to Federal Pizza, Postino Central, Joy Ride Tacos, and Windsor, to name a few, but you'll discover your own!
Ready To Move In
We hope that our website has give you a peek into all the good here, but nothing compares to a visit in person! Our leasing professionals are ready to answer your questions and give you a tour of this place we're so proud of. Things are going quickly in Phoenix these days, contact us today!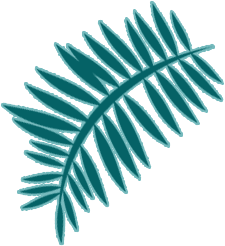 NEIGHBORHOOD
The Best of Phoenix within Reach
One of the best things about our neighborhood is how easy it is to get to anywhere in Phoenix. Just minutes away from Downtown, you can choose to get there in your own car or on the Light Rail with a park and ride station just up the street. Your Saturday mornings can be forever changed with a visit to the Uptown Farmers Market just 4 minutes away--not only is it fun, the local fresh produce can be a real game changer. You'll also be extremely close to the Biltmore Fashion Park when you need to do a little shopping or want a killer mimosa from The Breakfast Club. If you're feeling like you need a little nature, Encanto Park is less than 5 minutes away--remember to bring oats to feed the ducks!